Kristin Ferro- Photographer and Educator
We first discovered Kristin Ferro through the magic of Instagram during this summers Outer Space Project. Yoyo Ferro an artist and participant in the mural project was sharing progress of his mural located in the Summer Hill neighborhood. Having long admired the artists work we took notice to this particular photo as it captured more than the vibrancy of his painting, but also his joyful personality. A sunny day, blue clear skies, and a playful arrangement of shapes and colors behind him. It was the artists blissful smile that radiated from the image. Curiosity ignited when we noted that the photographer was his wife and we were eager to learn more.
Kristin Ferro is a photographer and Art Teacher at Cross Keys High School. Her passion for learning has driven her to continue furthering her own education. She is currently working towards completing a Masters in Arts Education all the while photographing images that inspire her. Recently her body of work follows and documents the artwork of her husband Benito Ferro. Kristin has grown up in Atlanta and her love for the city is evident in her many skyline photos. Interestingly it was this passion for the city that brought Kristin and Benito together.
"It was 2014 and I had posted a picture and then searched the hashtag. Thats when I found Benito's drawing and left a comment. Benito then found me on Facebook (before direct messaging on Instagram). He said, "Hey, you seem interesting. I want to take you to get coffee or dinner…text me so I'll have your number." I thought, "oh my gosh! Who is this guy?"
Sitting down with Kristin she exudes positivity and speaks passionately about her role as an educator. As an art teacher Kristin is working with teenagers to expand their critical thinking through creative problem solving. She understands the unique challenges facing her young students and works daily instilling in them optimism for the future. Kristin tirelessly aims to channel her students ideas into practical application in their lives outside of the classroom. Her goal is to empower students with confidence and arm them with the knowledge that artistic opportunities are available to them beyond their high school education. Kristin says, "Education is the most important thing. I strongly believe that if we put all of our money into education a majority of our problems will go away. It won't all be sorted out, but we will have a better angle of attack on facing challenges."
It is interesting to consider the dynamic between Kristin and her husband, both in artistic professions. Kristin shares that although there can be creative differences there is much more enjoyment to be found having the opportunity to collaborate with your partner. Kristin has challenged her own work through bringing more intention to her photography in the projects she has shared with Benito. She credits the growth of her photography to the experiences that they have had working together. A recent collaboration between Kristin and Benito was with Cross Keys Art and Living Walls Project on Bufort Highway. Kristin invited Benito into the classroom to share his creative journey with her students. He discussed his path from performing in a band in his youth, to discovering a love for origami, and drawing years later. The message to the students was simple, keep trying things you're interested in and you will find your niche. Benito also taught the students how to blind contour, a skill that he is widely known for. Kristin all the while photographing and documenting the progress. Kristin proudly describes how her husband transformed the students individual drawings into a large collaborative piece. Taking each drawing and joining them together to form a collage of their work.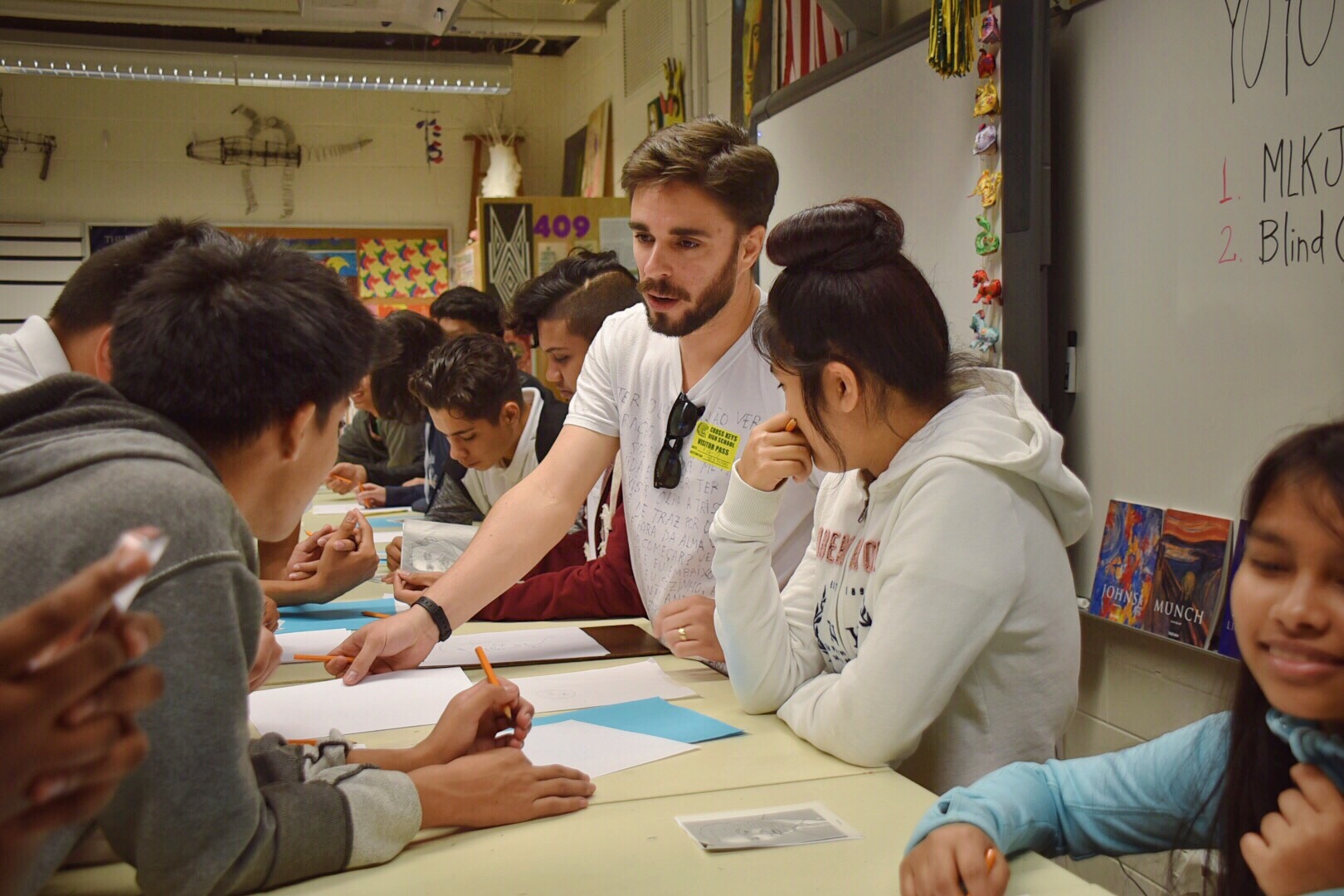 "Through the pictures you can see all of the kids are engaged, they're happy. We are trying to make lasting impressions and to have this memory to take into the world with them."
It is no surprise Kristin has a devotion for academics and photography when she tells us that her mother was a teacher and her father a photographer. Having grown up with a dark room in your home nearly guarantees a level of interest in cameras. Kristin purchased her first DSLR in 2008 after wanting to take her hobby more seriously. Quickly her friends and family took notice to her skill and she began the traditional path of photographing family portraits and brides to be. Although she was eager to share her talents, the competitiveness of the field and her inner perfectionist soon burned Kristin out. Her desire to pick up her camera faded and she gave herself a much needed break to tap back into her imagination.
"For a while I didn't take pictures and I put my camera away. After some time I started taking pictures on my iPhone until I filled up the memory. Then I decided to buy a small point and shoot which eventually brought me back to shooting again with my DSLR. Since I assign my students to go walking and take photos I've decided to do that too. It's been nice to scratch that itch."
Since picking back up her camera Kristin's photography has transitioned from portraits to compositions that draw her attention. She sets aside time to explore her surroundings and with her camera lens takes notice to what speaks to her. Tree swings, mail boxes, and the city skylines capture her interest.
To say Kristin loves Atlanta feels like an understatement. Having been raised in the city she has had the opportunity to witness the many changes throughout the years. Particularly the growth of the arts community in which she is actively involved in. Once more her optimism and admiration for the city are visible as she describes how art is shaping the landscape.
"All of the people that are putting on events and painting murals are awesome for it. I really hope that the city and others continue to embrace it. I think that Atlanta has huge potential to be a fine arts destination. I think we have a lot to offer, but I think that we still are getting there. Its a conversation we need to have, we have to communicate, and make time to understand what we can do. It's not easy, but it's not impossible."
The conversation of Kristin's childhood continues and we dive into a heavier topic in the city which is racism. As culturally diverse as Atlanta is there is no hiding from the incontestable forms of discrimination. It manifests itself through confederate flag bumper stickers slapped onto the backs of cars and more detrimental the divide of social classes. Which when you take notice is often threaded together with race.
"When I graduated high school I did think racism was over. I thought it was a thing of the distant past. I went to college in Athens and there was girl who was a dating a guy on the football team. I asked her, "oooh is he hot?" Another girl in the room chimed in, "He's black!!" I was like… "ok, but I asked if he was hot." At that moment I realized racism still exists. When I came home from college that year my mom asked how was it. I missed being in the city and the diversity…I missed my black friends."
Kristin is indeed optimistic about the future of Atlanta. The fervor she brings to her high school class room and the support she lends to her husband who paints our city beautiful is evidence that we all should be enthusiastic for the future of this city. When asked what advice she would impart Kristin replied:
"One- just do things…don't not do things. I am a big fan of trial and error. I think it is important to try a lot of things, because you're going to land on something. Don't stop doing things, don't stop talking to people. Through finding what you don't like, you will find out what you do like. I think that its a simple concept, but with a complicated execution. It doesn't have to be, its just a mindset."
At the completion of her masters Kristin will be turning up the volume with her photography and plans to make prints available for purchase. Kristin and Benito are both brainstorming future collaborations documenting more behind the scenes mural painting and blogging their life stories.
View Kristin Ferro's work by following her on Instagram and by checking out her website www.kristinferro.com. You can also view work by Yoyo Ferro on Instagram and www.yoyoferro.com
Words Rigby Wrights
Images Kristin Ferro